The "Tough Love" Tour made a huge stop this past weekend in Chicago, Il at the iconic Metro on Clark St. in Wrigleyville. This makes Teddy Swims first Headline Tour in Chicago, after an opening stint last summer with the Zach Brown Band in Tinley Park & a February 2020 date at Chicago's Beat Kitchen.
Teddy Swims is fastly becoming one of if not the hottest ticket to get this spring. Selling out venue after venue during the first month of the tour, fans are getting to see that Teddy Swims is a performer. Tonight, his "Tough Love" Tour stops at The iconic Chicago venue, the Metro. The building was built in 1927, & first opened its doors as the Metro in 1982. A sellout crowd inside the venue consists of 1,100 ticket holders between the main floor & balcony. The crowd at the Metro quickly filled in when doors opened at 7 PM. People in line were cold on a chilly Chicago night, but none seemed to mind with the anticipation of the night rising.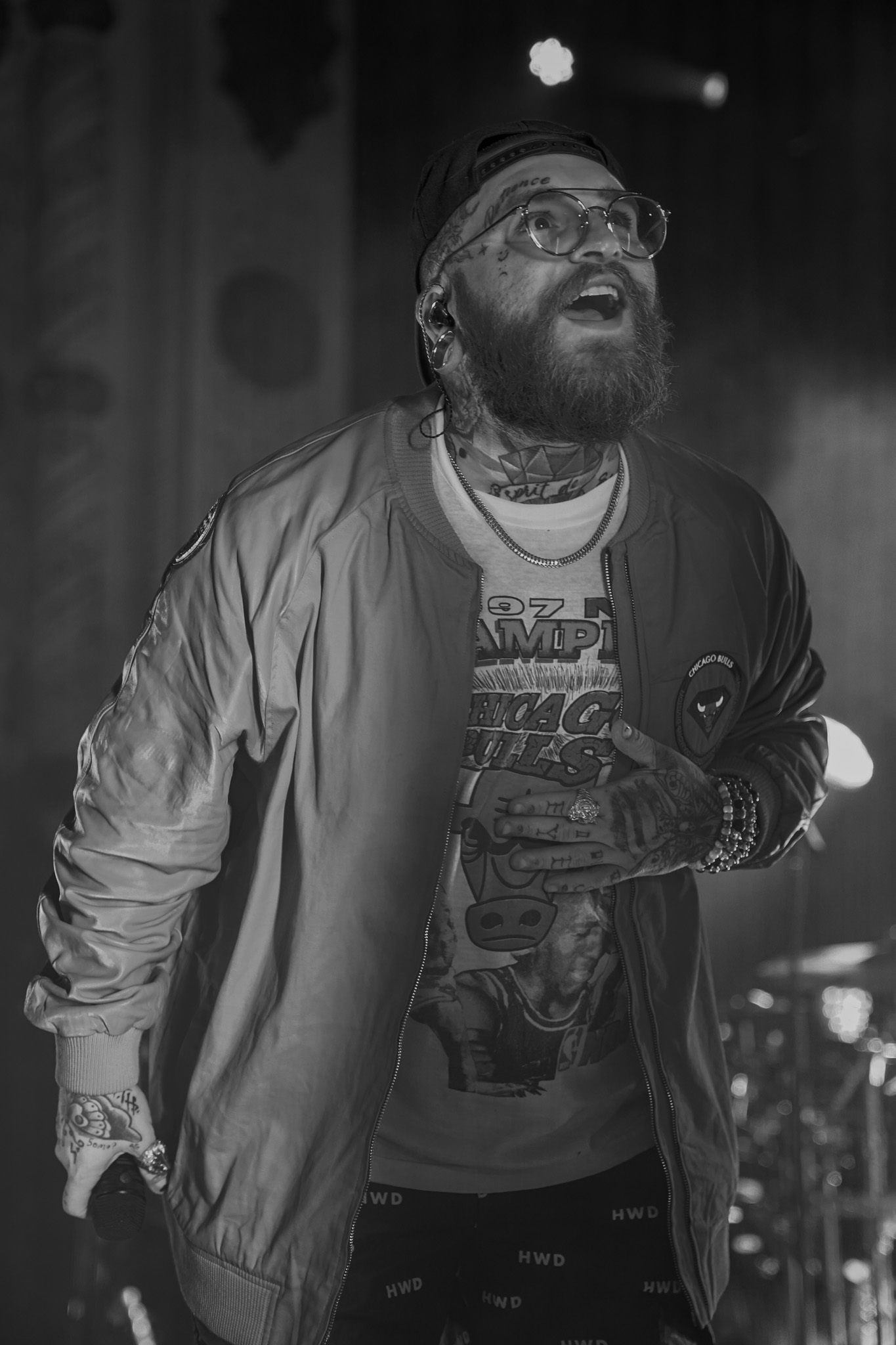 Swims kicked off his set with a trio of songs off his 2021 EP "Unlearning". The first is "Till I Change Your Mind", followed by the song "Broke" which he co-wrote with Thomas Rhett & "Blowin' Smoke" which showcases Swims's soulful side with his storytelling lyrics. Swims first broke onto the scene via the YouTube route, but since signing with Warner he has shown his ability to write songs that fans can relate to and feel with his delivery. Just days before Teddy Swims made his Chicago appearance, he released the new song "Dose" which was just what the doctor ordered inside the packed Metro. The legions of Swims faithful fans already knew each lyric to a song that will fit right into an already impressive songwriting repertoire. "For The Rest Of Your Life" off his 2022 EP 'Tough Love" brought a funky beat that had the crowd dancing on their heels. Swims has a way to write upbeat feel-good love songs, this being one of them.
Teddy had the crowd heated up by this point in his set when he dropped the early 2021 single "My Bad" & his slowdown bluesy soulful "Somebody Should Kiss You" this is the tone that has brought so many fans to discover the vocal talent that Swims brings to the table. A highly anticipated crowd favorite "Love For A Minute" was followed by a new unreleased song "PTSD" which is a treat to have on this tour. One of Swims's earlier 2019 R&B singles "Night Off" added depth to the set-list which was followed by his first cover song of the night by R&B singer Mario "Let Me Love You" which Swims did with justice making it his own soulful vibe. A stool was brought front & center and Swims wanted to slow down the set a little & showcase what brought him to this point. With his crisp vocal tone mixed with his serenading lyrics, "Amazing" is a song that Jaten Dimsdale (Teddy Swims Real Name) co-wrote with Dallas Davidson & it will make the hair on your arms stand straight up. Teddy dedicates this song nightly to his girlfriend, but it still made many melt within the sold-out venue as they sang every lyric back to him. This is one of those songs that will make many wedding playlists this summer.
Speaking of wedding playlist, the year is 2011, September & I was burning CDs of a wedding playlist. This one is of my own & one of the songs on that CD was "You're Still The One" a Shania Twain cover done by American Idol winner Lee DeWyze. Now, 11 years later Teddy Swims makes the song his. His husky vocals bring vibrant life to this song as well as 85 million YouTube views. This is the song that launched Swims into the YouTube universe & into millions of hearts all over. I had goosebumps as Teddy belted out his staple rendition of this song. Teddy had to follow this song up with another powerhouse & he did. "Please Turn Green" off the new "Tough Love" EP is what the crowd needed as he delivered it from his stool in the center of the stage showcasing his harmonies. The song talks about running into an ex that he is trying to get over, while she sits at a red light with his replacement. This is another song that paints pictures with its lyrics that Swims has penned.
Watch Teddy Perform Simple Things In Chicago
What happened next was a rare moment, but I'm sure Teddy will see many more of these. His lead single from the new EP "Simple Things" was a moment many in attendance including Teddy will never forget. Close to the end of the song, the emotion took Teddy over, & the Chicago crowd had his back as they harmonized together. The tears were in Swims's eyes and the crackle was in his voice, but this is a moment he deserved. Swims has worked very hard for this tour & it shows with the passion he puts into every song. Teddy told us a little about "L.I.F.E." before capping off his epic set with a pair of hits. The first being "911" into his closer "Bed On Fire", which almost lit a fire inside the Metro. His powerhouse vocals belted out each lyric as the crowd fired them right back to him in an eruption of emotions. This show will go down in metro history with some of the greatest sold-out shows inside this iconic venue. Chicago is hooked on Teddy Swims & after the performance, he put on I'm sure it won't be long until he makes his way back, but the venue will be much larger than 1,100 ticket holders.

Metro Chicago | April 16th, 2022
Set List:
Til I Change Your Mind
Broke
Blowin' Smoke
Dose
For The Rest Of Your Life
My Bad
Somebody Should Kiss You
Love For A Minute
PTSD
Night Off
Let Me Love You (Mario Cover)
Amazing
You're Still the One (Shania Twain Cover)
Please Turn Green
Simple Things
L.I.F.E.
911
Bed on Fire
For More Information & to Follow Teddy Swims:
See the full Photo Gallery

Catch the "Tough Love"

World Tour