Adam Church Playing Buckhead Theater
The weekend started off with Adam Church playing at a small venue at the Buckhead Theater on July 29th for the Official Bootleggers Pre party. This was a part of 2 free events that Luke Combs & Whiskey Jam came together to do for the fans who were coming out to see Luke for his 3 stadium shows. This was a big day for Adam, not only opening the whole weekend of festivities but also releasing a brand new song "When the Sun Goes Down on a Small Town".
The Brothers Hunt Plays a Few Songs They Co-Wrote With Luke Combs
This event really set the tone for the following day for the Whiskey Jam Bootleggers Tailgate Party (which unfortunately this got stormed out) but you could just tell how much Adam enjoyed being up on that stage playing his music for Luke's fans and I am sure making some of his own in the process. Adam brought some familiar faces with him for this performance including Luke's bandmates, The Brothers Hunt, & Dalton Dover.
Listen To Adam Church On Spotify
Listen To Adam Church On Apple Music
Listen To Dalton Dover On Spotify
Listen To Dalton Dover On Apple Music
Catch Dalton Dover On Tour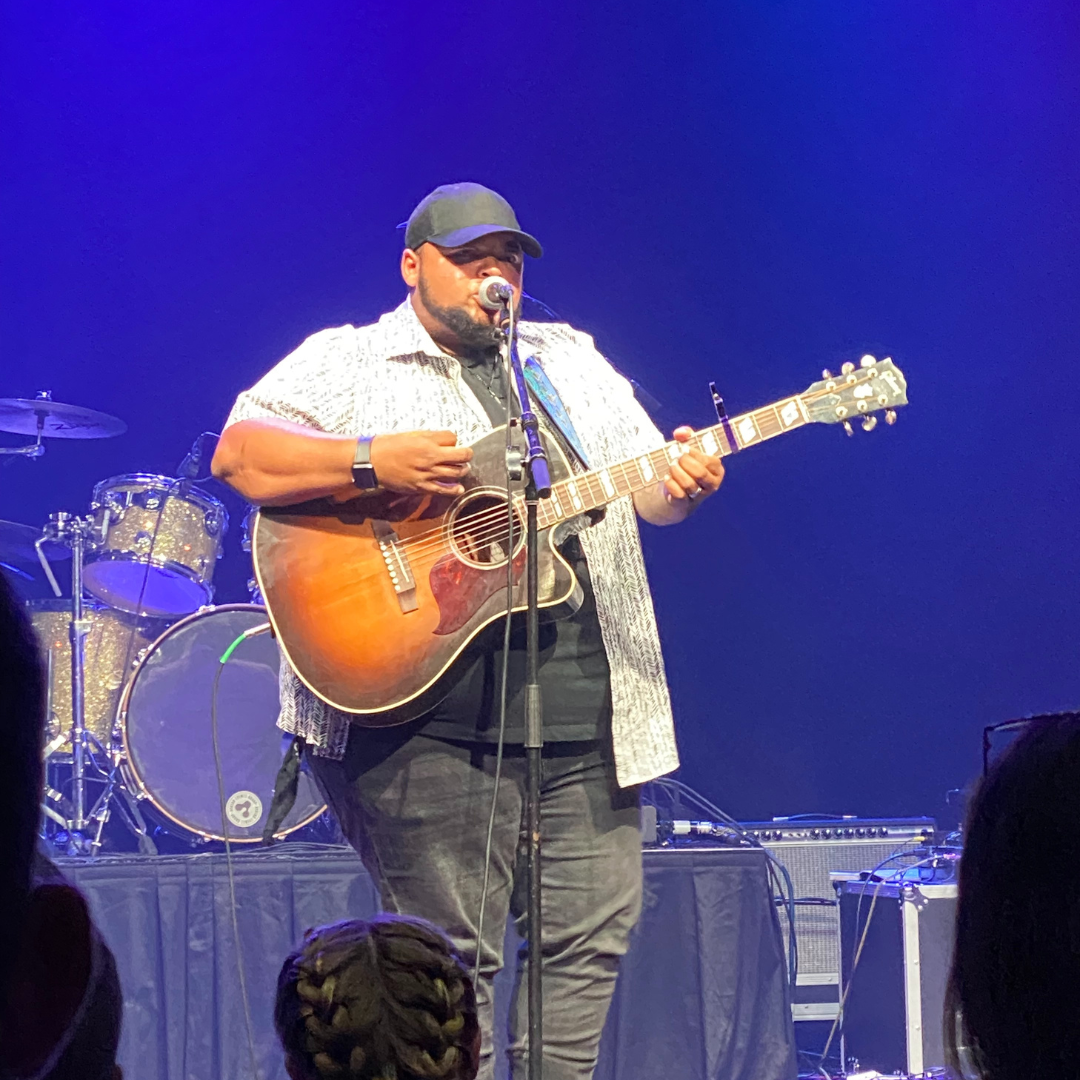 Dalton Dover Surprises The Crowd at Buckhead Theatre
Rowdy Rob Singing "Doin' This"
Starting off the Stadium Show Saturday night was Morgan Wade who got a 25 minute set. During her seven song set she played some of her more recognizable songs from her debut album "Reckless".
Listen To Morgan Wade On Spotify
Listen To Morgan Wade On Apple Music
Morgan Wade Setlist:
Reckless
Last Cigarette
Don't Cry
Take Me Away
Matches
The Night
Wilder Days
Zach Bryan was next up for the night getting a 35 minute set. During this he played eight songs. He came out swingin starting off with "Open The Gate". He definitely made an impact this night, not only for people who were getting to see him live for the first time but people who hadn't even gotten to hear his music before. There is even a video floating around on social media of someone using shazam to look up one of his songs during the concert. That song you might ask? Well for people who have listened to Zach's album he released in May "American Heatbreak", the song is very familiar "Something In The Orange".
Listen To Zach Bryan On Spotify
Listen To Zach Bryan On Apple Music
Zach Bryan Setlist:
Open The Gate
God Speed
Condemned
Something In The Orange
Oklahoma City
Heading South
From Austin
Flying Or Crying
Cody Johnson was next in the lineup getting an hour long set and playing twelve songs. Playing the majority of crowd favorites and opening up with "Honky Tonk Hardwood Floors". Cody Johnson used the stage to his advantage. Interacting with everyone in the crowd, from the front of the stage to the end of the catwalk. Even getting very personal at the end of his set bringing out a stool and playing to the filled stadium. Telling the story of why he uses the stool. Sharing with the crowd he recently underwent a 5 hour neck surgery in 2021. He closed the show out with "Til You Can't", and there's so much to be said about that song and the feeling it can give you hearing it live. If you haven't had the chance to go check out Cody Johnson and his band you definitely will not be disappointed with his performance.
Cody Johnson Lights Up Mercedes-Benz Stadium
Cody Johnson Setlist:
Honky Tonk Hardwood Floors
Diamond in My Pocket
Let's Build a Fire
With You I Am
Nothin' On You
Son of a Ramblin' Man
Dear Rodeo
Me and My Kind
On My Way to You
Long Haired Country Boy (The Charlie Daniels Band cover)
Human
'Til You Can't
Listen To Cody Johnson On Spotify
Listen To Cody Johnson On Apple Music
Finally the headliner for this stadium show, Luke Combs. Combs has been a busy man recently since his last stadium show. Welcoming his newborn son into the world, and having an album released the same week. Luke had a nearly 2 hour set, covering various songs throughout his career. Kicking it off with "1, 2 Many", but also threw in some of his newer songs like "Any Given Friday Night". Luke always does a great job of interacting with his fans, before the show started he gave his fans a chance at selecting a song for him to play during his set. The fans voted for the song "Call Me". Luke during the show stopped and shared an amazing moment that one of his young fans would never forget. The young fan Skyla had a sign held up quoting one of his biggest songs "Beer Never Broke My Heart". Her sign read "Long neck ice cold beer never broke my heart but, but you did!!! Please be my husband or at least make a TikTok with me!!" Combs brought her up on the stage and told her "I can't be your husband because I'm already one of those." "But I see that you wanna make a TikTok. Do you have your phone? Or do you have a phone? Let's make one." Luke's music offers something for everyone and he is surrounded by very talented musicians as bandmates. Luke even showcases them during the show letting them sing and play cover songs crossing from "Two Dozen Rose", "Chattahoochee, & "Ain't Goin' Down ('til the Sun Comes Up)". Luke even surprised some fans by playing a fan favorite unreleased song "Five Leaf Clover". Luke kept on rocking too, closing out the show with his cover of Ed Sheeran's "Dive", "The Kind of Love We Make", before ending out on "Beer Never Broke My Heart" while also taking the time to make a lot of fans really happy signing almost everything fans held up for him. The reigning CMA entertainer of the year put on a show for the 50,000+ fans in Mercedes-Benz Stadium, showing why he won the biggest award in country music. Luke's show is definitely one you wouldn't want to miss. Catch him out on his "Middle of Somewhere" tour this fall playing every city back to back nights, to give his fans more of a chance to see him in their city.
Listen To Luke Combs On Spotify
Listen To Luke Combs On Apple Music
Luke Combs Setlist:
1, 2 Many
When it Rains It Pours
Must've Never Met You
Doin' This
Cold As You
Ain't Far From It
She Got the Best of Me
Houston, We Got a Problem
One Number Away
Does To Me
Forever After All
Even Though I'm Leaving
Better Together
Five Leaf Clover (Electric Guitar Solo)
Going, Going, Gone
Call Me
Two Dozen Roses/ Chattahooche/ Ain't Goin' Down ('til the Sun Comes Up) (Band Intro)
Any Given Friday Night
Lovin' On You
Brand New Man (Brooks & Dunn Cover)
Beautiful Crazy
Hurricane
Encore:
Dive (Ed Sheeran Cover)
The Kind of Love We Make
Beer Never Broke My Heart