Eric Church rolled into Detroit Rock City, the night after we lost one of Rocks Legends. Singer/Songwriter Michael Lee Aday known for his stage name Meat Loaf passed on January the 20th in Nashville, TN. His last public performance was at John Rich's Bar on Broadway in March of 2021.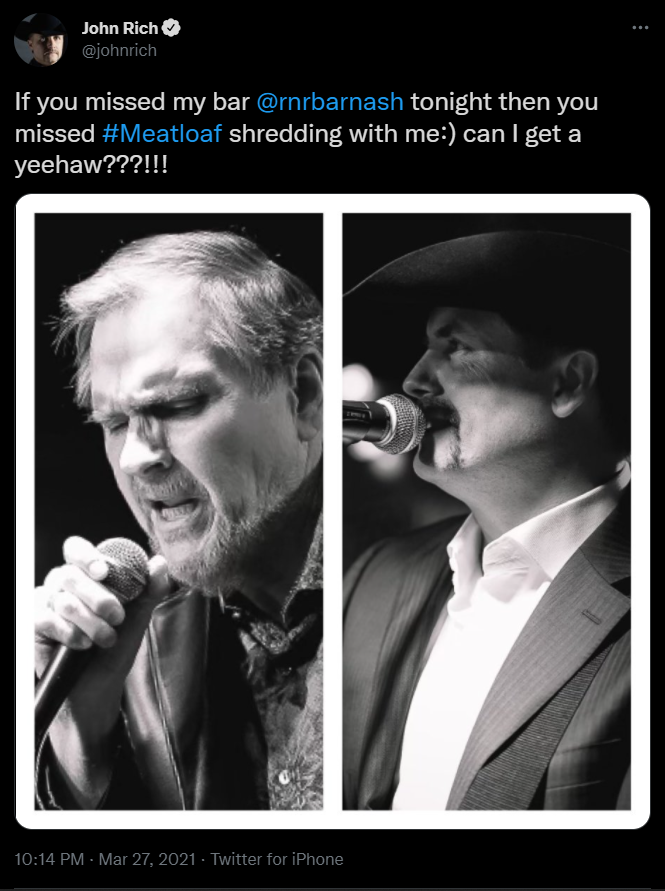 (Click Image For Tweet)
He was one who shined as an originator. He was in my eyes the "Rock Opera" at its finest. One of the first vinyl Albums I ever remember my dad playing was "Bat Out Of Hell" & those songs still resonate with me to this day. He was influential to many which included a heavy influence on Eric Church's new "Heart" album. Eric Church talked with Rolling Stone about how "Heart Of The Night" was Meat Loaf. His producer Jay Joyce even went as far as telling Church that he couldn't do that many hits back-to-back In a song and Eric replying with "Dude, It's Meat Loaf, Let's Do It". "Russian Roulette", which is also off the "Heart" album, & has a very edgy Rock Opera sound to it.
"I kept thinking Joanna Cotten, your longtime backing vocalist, is your Ellen Foley, the singer in "Paradise by the Dashboard Light." And Jay Joyce is like your Todd Rundgren. So, I'm glad to hear you acknowledge the Meat Loaf comparison" - Joseph Hudak (Rolling Stone)
(Click Image For Tweet)
Joseph from Rolling Stone nailed it! Could you imagine Joanna Cotten & Church on the full 12-Minutes of "I Would Do Anything For Love", well we almost got it. Last night before Church's #1 hit "Springsteen" he decided to pay tribute to the late Rock Opera Legend. Just like in true Church fashion too, Eric has always paid tribute to the ones that paved the way for him & the ones that have influenced him along his journey. His 30-Second rendition of "I Would Do Anything For Love" was the perfect send-off for one of his heroes, & better than the last cover he did in Detroit of Eminem's "Lose Yourself" during the Double Down Tour. Church even let the crowd take over and the chills crawled down everyone's spine. Could this be a teaser? We can only hope so, especially with the addition to the Eric Church Band his ivory tickler Billy Justineau.
(Billy Justineau - Photo By: Anthony D'angio)
I got lucky on April 6th, 2016, to see Meat Loaf Live at The Genesee Theatre in Waukegan, IL. It was everything you thought it would be. Although, you could tell Meat Loaf was moving slow & most likely getting close to the end of his touring career. (Two months after seeing this show, Meat Loaf did end up collapsing on stage in Canada) The show was still very energetic, entertaining, his set-list was packed with hits, and my dad was in the seat next to me to see it all. We connected Melodies to Memories that night that went back to when I was still crawling like a "Bat Out Of Hell".
(Poster From When I Saw Meat Loaf Live at the Genesee Theatre & One Of My Favorite Items In My Autograph Collection)
We will miss you Meat Loaf & Thank You for the Music you leave behind that will carry on for generations to come. Now, Rock Hall of Fame get this man inducted already. He was a legend with who I was very lucky to grace this world during the same period.
(Photo From Meat Loaf Facebook)
Our hearts are broken to announce that the incomparable Meat Loaf passed away tonight surrounded by his wife Deborah, daughters Pearl and Amanda and close friends. His amazing career spanned 6 decades that saw him sell over 100 Million albums worldwide and star in over 65 movies, including "Fight Club", "Focus", "Rocky Horror Picture Show" and "Wayne's World."
"Bat Out of Hell" remains one of the top 10 selling albums of all time.
We know how much he meant to so many of you and we truly appreciate all of the love and support as we move through this time of grief in losing such an inspiring artist and beautiful man. We thank you for your understanding of our need for privacy at this time. From his heart to your souls…don't ever stop rocking! - Statement From His Facebook Page