Eric Church owned Green Bay, WI this past weekend with a huge pair of Double Down style shows. The Gather Again Tour rolled into The Resch Center, and it meant business, the in the round setup brought in over 10,000 fans both nights & the legion of Church Choir members was not left disappointed.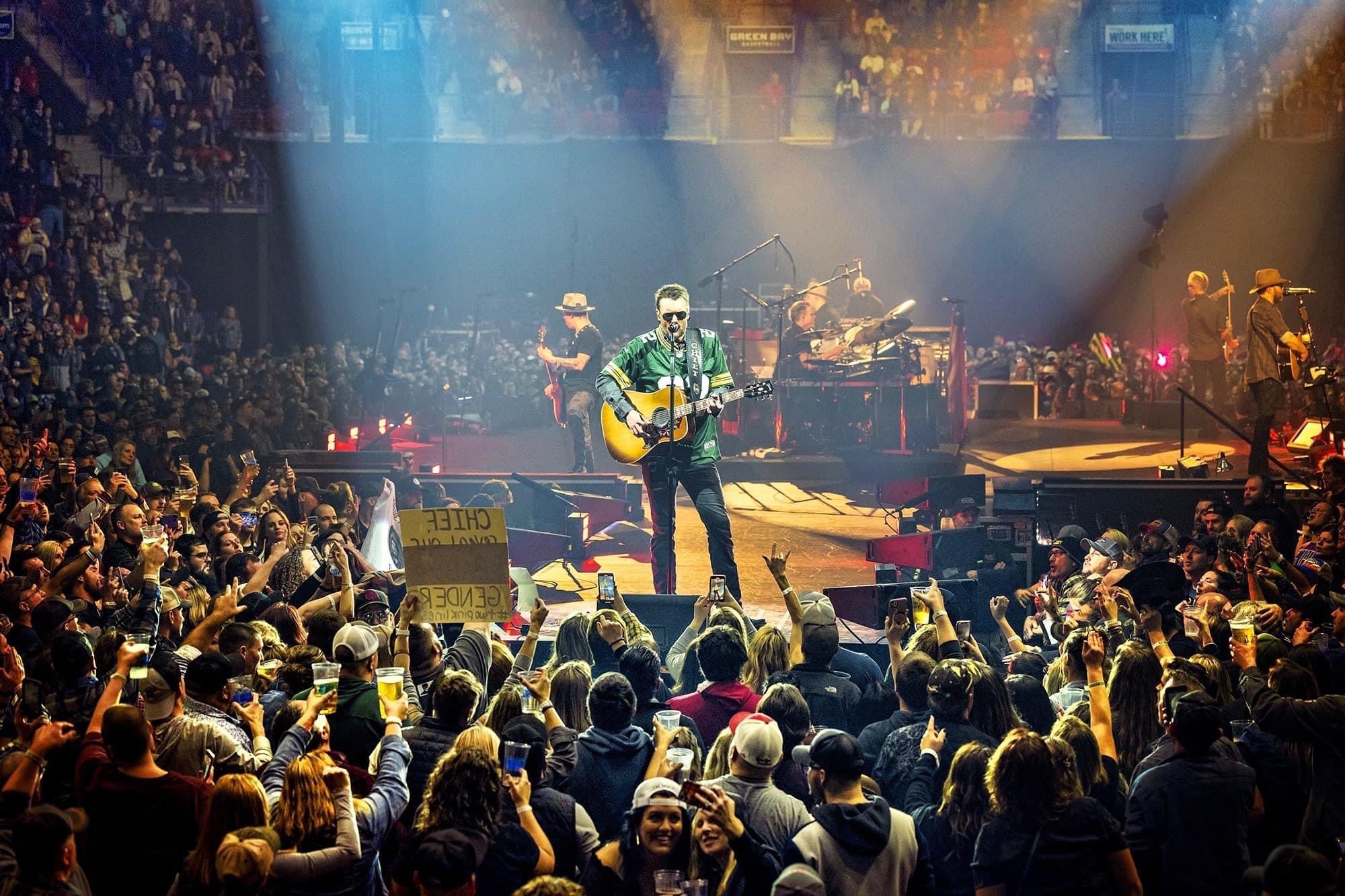 Photo By: Anthony D'Angio
Just as fans started to arrive in the early brisk morning to form the pit line, so did the rain and sleet. Leave it up to Church to book the Northern States in wintertime. Fans arrived as early as 7 AM for the 7 PM venue doors, just to make sure they secure their own little piece of real estate inside the venue. The rain & sleet quickly turned to snow, and then the doors were open. If you haven't been to a Church show prior then you would just assume he was late taking the stage, however, Church has been known to wait till that last fan is in the doors until he takes the stage. In the venue world, they call it percentages, the tour manager will be in contact with the box office and Church won't take the stage till over 92% has had their tickets scanned. On this night the lines were long, stretching for blocks. It was clear that Green Bay was ready to Gather Again.
Friday Night Crowd Outside The Resch Center
The lights went down, and the band and Church took the stage turning the venue green with lights and kicking off the show with the cult classic "Smoke A Little Smoke" which was co-written by Church's guitar player & fellow songwriter Driver Williams. After a show one night, Church looked at Driver and asked what's your plans tonight, Driver then replied "Just going to Drink a little Drink & Smoke a little Smoke" Church knew that would be a hit.
"Tonight, we're going to exorcise a lot of COVID demons," Church told the crowd a few songs in. "We're gonna sing. We're gonna drink. We're gonna put our arms around each other. We're gonna party ... I will be your DJ for this evening. We ain't going home until Sunday." Said Church
Eric then unleashed hit after hit, even doing one song almost completely without his famous Ray-Bans. A lucky young fan in the audience got him a new pair of shades when Church bent down in the pit and placed his famous aviators on the kid's head. Another pair was then delivered to Church after the song. For years Eric has talked about how the stage lights used to burn his contact lenses, which is why the now infamous Ray-Bans are a staple in Chief's image. Another staple, and the reason thousands of the Church Choir do multiple shows, (this one being my 170th), is you never know what Church will do next. At any given moment he could pull any song out of his nearly 17-year career and perform a rare treat. Tonight, was one of those nights. His 7-Year-old son Hawk (THC) had a special request for his dad in Green Bay. It wasn't many of the covers that they were listening to, but one of Church's deep cuts from the Carolina album "Longer Gone" & was played for the first time on The Gather Again Tour. At one point Church stopped to take in one of the many signs inside the Resch Center, this was a special one as it read
"This Nurse has given enough shots, it's time to take one" Church without hesitation twisted off the top on a Jack Daniels airplane bottle and turned it up with his new Nurse acquaintance.
At one point Church even stopped to do a gender reveal, this first happened in Michigan during the Double Down Tour when the couple found out they were having twin girls, tonight in Green Bay this reveal had the same outcome, with the couple finding out It's A Girl.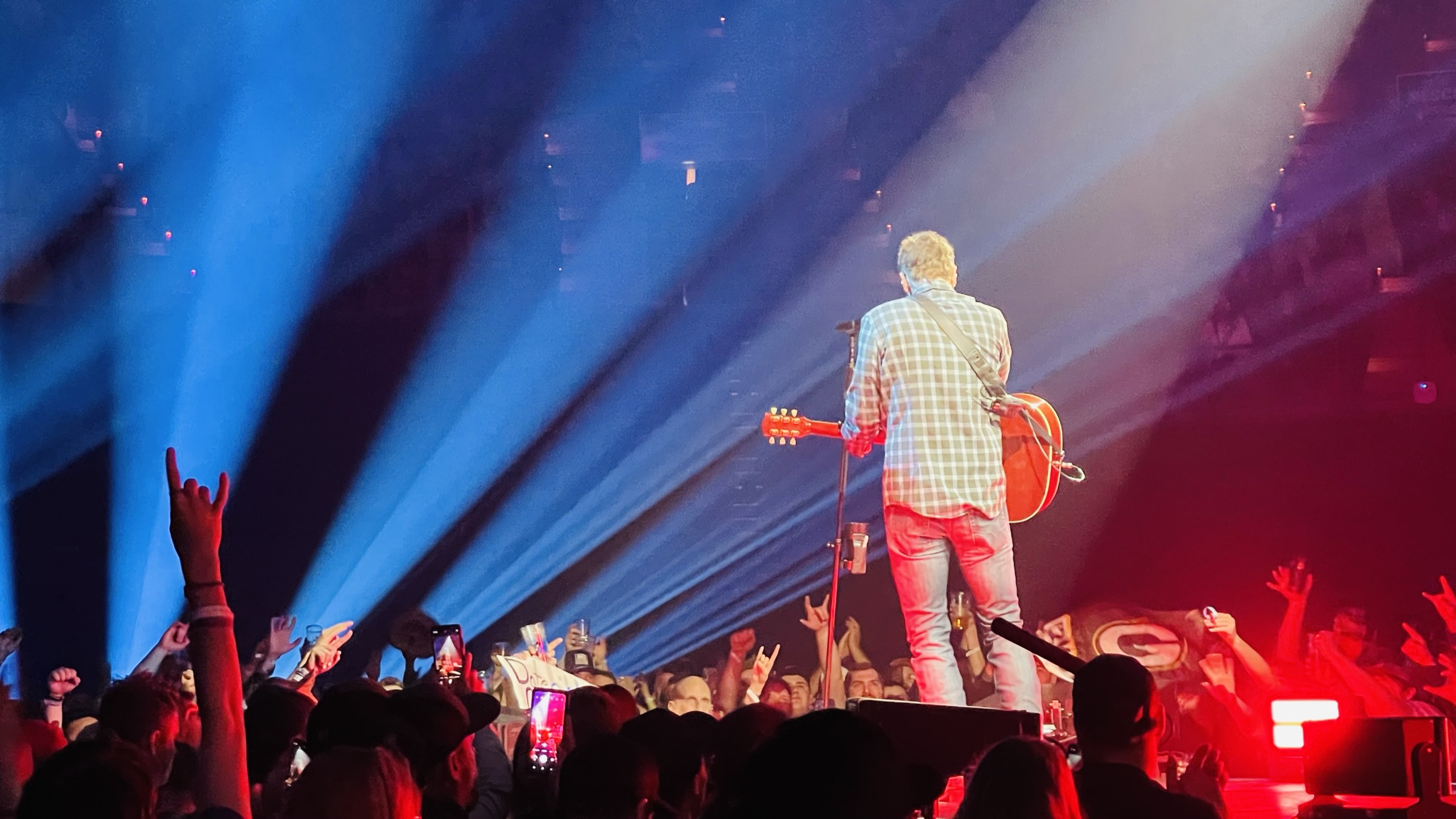 Eric Church on the Soul Ramp Saturday Night
Church closed out night one about 11:50 solo just him, a guitar, and the song "Sinners Like Me" Tonight, was a special night for me as it was Avery, my 5-year-old, & Jaxon his 7-year-old brother's first Eric Church show. Eric noticed the boys in the crowd during "Like Jesus Does" & then after the show was over, he made a quick stop by to give them high fives and a family photo. I first started seeing Eric Church in June of 2006, tonight it all came full circle as I introduced the next generation to Church.
Eric Church Friday Night After The Show With The Shriver Family
After the show was over Eric's crew was treated to a special night at Lambeau field that included the decadent 80's rock tribute band The Glam Band. I'm sure this party went into the early hours knowing those good ole boys and seeing that they didn't have any tear down being back-to-back nights. Eric's Crew is some of the hardest-working guys in the business.
Eric Church Crew Prior To Friday Night In Green Bay
Night 2 just felt right. It was 50 degrees in Northern WI, the jackets were left in the car & the 10,000 plus made their way to the Resch Center. Lines started early in anticipation that the Saturday show might be unique in some way, and it was. So unique that Eric Church now has part ownership into Green Bay's legacy.
Eric Church Saturday Night In Green Bay
Like I said Night 2 felt different, this is now my 171st Eric Church show & people often wonder why I attend so many. He is always unpredictable every show is different in some aspect. The band and Eric always walk out to "Lunatic Fringe" by Red Rider, but Tonight the song ended, and no Church. What happens next was a first and shows why he is the Chief. "Stick That In Your Country Song" starts and in walks Eric Church from the back of the pit "Take me on up to Detroit City" … he commands his way towards the stage preaching to the Green Bay crowd, tonight's show is off with a huge pop from the Sold-Out crowd. Church didn't slow down coming out of the gate hard, and making sure the set-list was different from Friday. He added in a few rare songs like "Love Your Love The Most" a song that Church has admitted to not being one of his favorites that have been released in the past. You could tell it was a late Friday night for the Chief, but he finally stopped to take his first shot of the night with a couple on a date night. This couple had a sign that indicated "Date Night Without Our Six Kids" Eric asked "they all yours" before saying "that certainly deserves a shot of Jack Daniels & we're going to crack the seal right now" then turning up an airplane bottle with the couple. A few songs later during "Wrecking Ball" a song about seeing your special someone after some time away, and the thoughts of what you might do when you see them, during this song Church, also gave a shout out to that same couple by saying:
"That's how you get 6 kids"
Greg Spencer's Sign To Present Eric Church W/ Packer Ownership
He was primed for Saturday in Green Bay, but it's what happened next that will cement Church's legacy with the northern WI faithful. One thing Wisconsin loves more than its beer is the love they have for football & The Green Bay Packers. A team rich in history and has a legacy unlike any other NFL team, and this is coming from a Bears fan. The interesting thing about the Packers is they are fan-owned & the only publicly owned franchise in the NFL, with as of 2021 had 361,300 stockholders. Now they have one more in the name of Eric Church.
"Church owns Green Bay with two epic shows, and now, a piece of the Packers." Stated Church Choir member Greg Spencer
He was able to make Church part-owner of the city team he just owned with 2 roof-raising shows at the Resch Center. Spencer was able to get Church's attention with a sign that read ERIC CHURCH EOTY (entertainer of the year) with a checkmark & PACKERS OWNER with another checkmark. When the Green Bay crowd saw what Church was holding, they erupted into a huge "Go Pack Go" chant which has become a tradition in Green Bay since the Outsiders Tour rolled through Green Bay in 2014.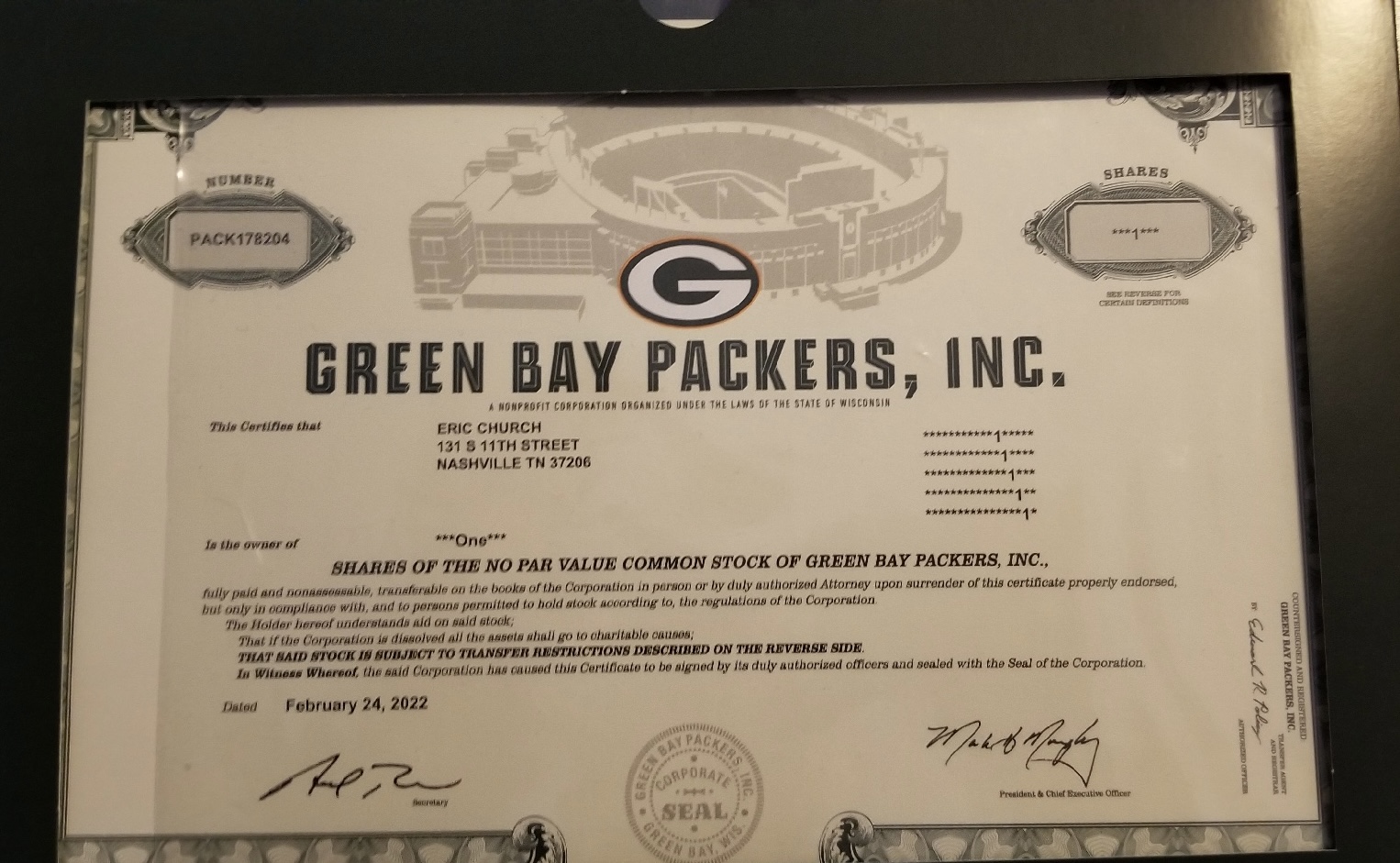 Eric Church's Stockholder Certificate Given To Him By Greg Spencer
After his staple song "Springsteen" Church changed the game, tossing the setlist out the window & using signs in the arena to take requests. One is "Lone Wolf" a couple's wedding song that Church said "he didn't see that coming" this is a rare song to hear live. It's from Church's & album which was only released as a fan club exclusive, and it's still hard to tell if it will ever be on any streaming platforms. During the song "Some Of It" a fan handed Church a Ukrainian flag that led to a loud thunderous cheer from the crowd as Church held it up & displayed it with pride.
Eric Church W/ Ukraine Flag
Inching closer to that midnight mark. Church takes a slow strut to the end of the Soul pit catwalk, looks up, and strums a cord that gives every Eric Church fan goosebumps. This song is the reason why we are able to call Church the GOAT (greatest of all time). It was 2005 and Church was given one chance in front of some Nashville big wigs, you know the movie "Walk The Line" where they say
"let's bring it home. If you was hit by a truck and you was lying out there in that gutter dying, and you had time to sing *one* song"
Well when Church was faced with that same situation the song he chose was "Lightning" a song he wrote after watching the movie The Green Mile. A song so deep and rich with lyrics that its own music video got banned from rotation on GAC, over 15 years ago. We mention rare songs, and I mentioned that the night felt different. Well, this one song made this night the most unique that Green Bay has ever witnessed.
Eric Church Saturday Night In Green Bay
Church was not done either with rarity, playing a song he & bandmate Jeff Hyde wrote a few years back and was cut by Keith Urban called "We Were". This was also a first with Church and his band the ECB, the only other time he has attempted this song was on the Double Down tour and only acoustic with Hyde. The night closed out with "Holdin' My Own" as fans Gathered tightly with their arms around each other swaying on an early Sunday morning. I'm sure most of the Resch Center crowd missed their Sunday mass, but not to worry they still got to be at Church on a Sunday with the show ending shortly after midnight.
Photo By: Anthony D'Angio
Follow Gainin' Fast On Memphis on Instagram for Videos from both Green Bay Shows
Friday's setlist
(9:15 - 11:50 | 2 Hours 35 Minutes)
"Smoke a Little Smoke"
"Country Music Jesus"
"Desperate Man"
"Heart on Fire"
"That's Damn Rock & Roll"
"Guys Like Me"
"Round Here Buzz"
"How 'Bout You"
"Drink In My Hand"
"Hell of a View"
"Longer Gone"
"Pledge Allegiance to the Hag"
"Homeboy"
"I'm Gettin' Stoned"
"These Boots"
"Rock & Roll Found Me"
"Drowning Man"
"Knives of New Orleans"
"Mr. Misunderstood"
"Monsters"
"Creepin'"
"Cold One"
"Stick That In Your Country Song"
"Talladega"
"Jenny"
"Like Jesus Does"
"Give Me Back My Hometown"
"I'm on Fire"/ "Springsteen"
"Higher Wire" (encore)
"Record Year" (encore)
"Sinners Like Me" (encore)
Saturday's setlist
(9:15 - 12:07 | 2 Hours 52 Minutes)
"Stick That In Your Country Song"
"Desperate Man"
"Country Music Jesus"
"Heart on Fire"
"Guys Like Me"
"Round Here Buzz"
"How 'Bout You"
"Love Your Love The Most"
"Drink In My Hand"
"Hell of a View"
"Pledge Allegiance to the Hag"
"Homeboy"
"Smoke a Little Smoke"
"These Boots"
"Heart Like A Wheel"
"Carolina"
"Mr. Misunderstood"
"Hippie Radio"
"Lotta Boot Left To Fill"
"Creepin'"
"Cold One"
"Drowning Man"
"Talladega"
"Jenny"
"Like Jesus Does"
"Give Me Back My Hometown"
"I'm on Fire"/ "Springsteen"
"Lone Wolf" (encore)
"Record Year" (encore)
"Some Of It" (encore)
"Lightning" (encore)
"We Were" (encore)
"Holdin' My Own" (encore)