And the Dangerous Tour is off and running, Morgan Wallen Kicked it off in Madison Square Garden after a few cancelations forced him to postpone. His February 3rd, 4th, & 5th dates have all been pushed back to April/May due to inclement weather in Kentucky & Indiana. Fans in New York City were ready for Wallen, & what a way to kick off a tour inside the legendary Madison Square Garden.
(Photo Credit: John Shearer)
The show kicked off with Opening Acts HARDY & Larry Fleet. During HARDY's set, he surprised the NYC crowd with Special Guest Lindsay Ell during "One Beer". In true HARDY fashion, he had the crowd primed and ready for his buddy Morgan Wallen.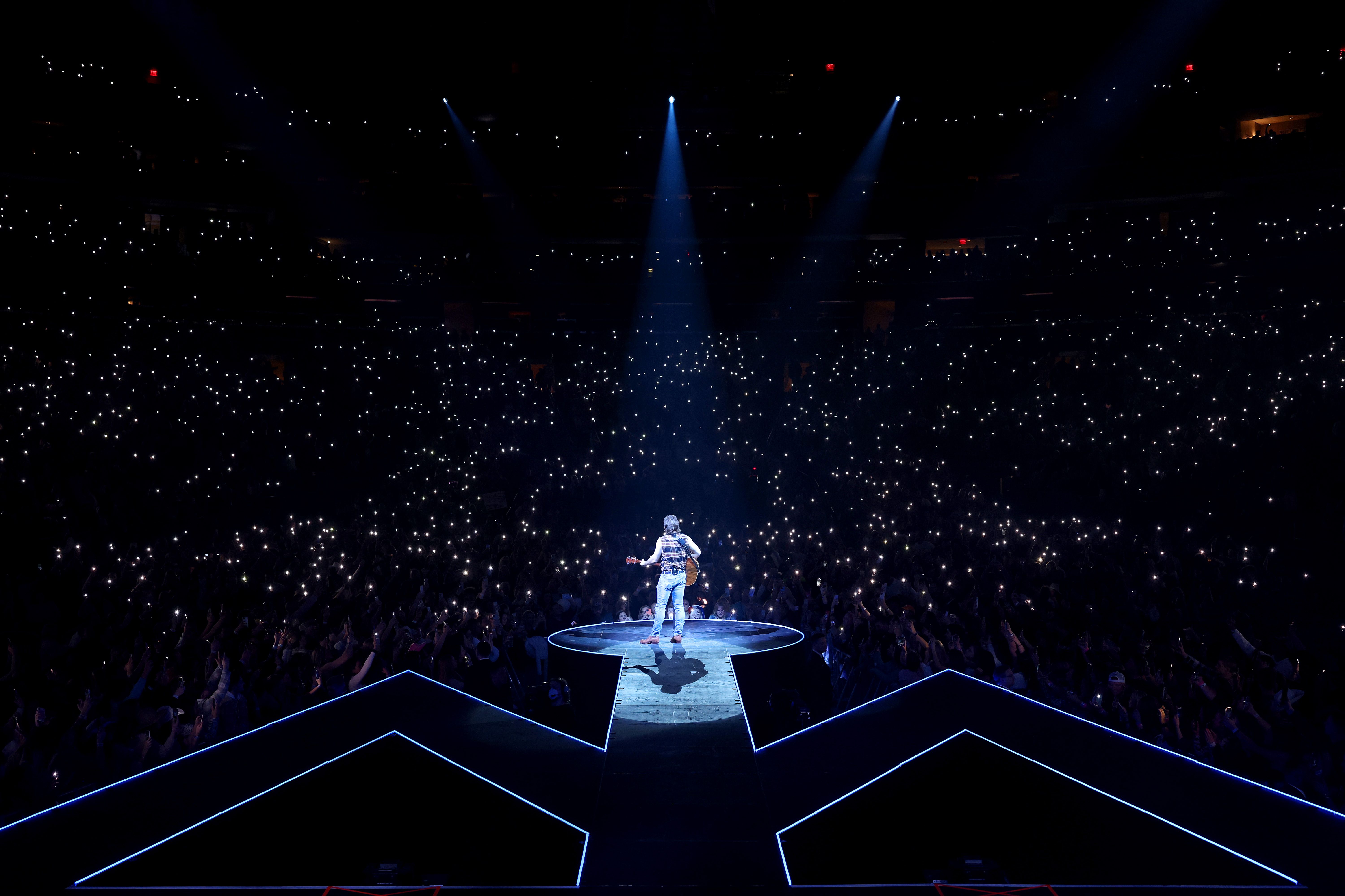 (Photo Credit: John Shearer)
Morgan, barely got on stage when the crowd of 13,237 erupted into a loud thunderous cheer. This cheer reached a decibel level averaging 30dBs louder than the average Knicks Game at Madison Square Garden. New York City was ready for Wallen. He couldn't even get behind his piano for the tour opening song 7 his current single "Sand In My Boots" without being in awe of the crowd. Giving NYC a big "New York City What's Up" & telling the roaring crowd "What you say we do something country in New York City tonight" those piano keys started. What followed thou was magic, gave me goosebumps watching it and writing this. The singalong was built up for a while in Wallen's fans. The hits kept coming too, during Wallen's 23 Song Set-List. Even telling the crowd "We were supposed to start our tour in Indiana, but the good Lord had other plans, so for 2022, our first show is right here in Madison Square Garden," before grinningly adding, "Make it hard for the next people who come see us on tour." The sold-out crowd was treated to music spanning both of Wallen's albums, which saw him performing 15 songs from his 2021 smash album "Dangerous". Wallen, had a Special Guest as well when Ernest came out to do the duet "Flower Shops" with Morgan. The song kicked off 2022 on Apple Music at #1. Of course, his other friend on the bill HARDY had to join in for a song as well as they went into "He Went To Jared" a song that appeared on the HIXTAPE Vol. 1. The set concluded with his hit "The Way I Talk" off his 2018 Big Loud debut. He reappeared for his encore after the crowd wouldn't let him leave. "Heartless" kicked off the encore, followed by Morgan standing on the edge of the stage, & the boy from east Tennessee telling the crowd in closing "I never thought I'd be doing this. You all are incredible" & then launching his final two songs "Wasted On You" & ended the night with "Whiskey Glasses".
(Photo Credit: John Shearer)
Wallen's songwriting is what has moved him into the top tier in the Country Music genre, his live shows have the energy that I have only seen from Eric Church, Metallica, & other Industry powerhouses. The Dangerous Tour crisscrosses the United States over 54 stops, not including the fairs & festivals that Wallen will be at over the summer. One of them was announced yesterday in Michigan at the Faster Horses fest with his friend Eric Church.
(Photo Credit: John Shearer)
2022 The Dangerous Tour stops:
February 9, 2022 — New York, NY — Madison Square Garden — HARDY and Larry Fleet
February 10, 2022 — New York, NY — Madison Square Garden — HARDY and Larry Fleet
February 24, 2022 — Columbia, SC — Colonial Life Arena — HARDY and Larry Fleet
February 25, 2022 — Savannah, GA — Enmarket Arena — HARDY and Larry Fleet
February 26, 2022 — Greenville, SC — Bon Secours Wellness Arena — HARDY and Larry Fleet
March 3, 2022 — Biloxi, MS — Mississippi Coast Coliseum — HARDY and Larry Fleet
March 4, 2022 — Bossier City, LA — Brookshire Grocery Arena — HARDY and Larry Fleet
March 5, 2022 — Oklahoma City, OK — Paycom Center — HARDY and Larry Fleet
March 10, 2022 — Sioux Falls, SD — Denny Sanford PREMIER Center — HARDY and Larry Fleet
March 11, 2022 — Omaha, NE — CHI Health Center — HARDY and Larry Fleet
March 12, 2022 — Grand Forks, ND — Alerus Center — HARDY and Larry Fleet
March 16, 2022 — Nashville, TN — Bridgestone Arena — HARDY and Larry Fleet
March 17, 2022 — Nashville, TN — Bridgestone Arena — HARDY and Larry Fleet
March 18, 2022 — Nashville, TN — Bridgestone Arena — HARDY and Larry Fleet
April 14, 2022 — Evansville, IN — Ford Center — HARDY and Larry Fleet
April 15, 2022 — Charleston, WV — Charleston Coliseum — HARDY and Larry Fleet
April 21, 2022 — Corpus Christi, TX — American Bank Center — HARDY and Larry Fleet
April 22, 2022 — San Antonio, TX — AT&T Center — HARDY and Larry Fleet
April 23, 2022 — Lafayette, LA — CAJUNDOME — HARDY and Larry Fleet
April 28, 2022 — Green Bay, WI — Resch Center — TBD and Larry Fleet
April 29, 2022 — Des Moines, IA — Wells Fargo Arena — TBD and Larry Fleet
April 30, 2022 — Kansas City, MO — T-Mobile Center — TBD and Larry Fleet
May 12, 2022 — Denver, CO — Ball Arena — HARDY and Larry Fleet
May 13, 2022 — Rapid City, SD — Summit Arena — HARDY and Larry Fleet
May 14, 2022 — Billings, MT — First Interstate Arena — HARDY and Larry Fleet
May 27, 2022 — Allentown, PA — PPL Center — HARDY and Larry Fleet
June 2, 2022 — Charlotte, NC — PNC Music Pavilion — HARDY
June 3, 2022 — Raleigh, NC — Coastal Credit Union Music Park at Walnut Creek — HARDY
June 4, 2022 — Bristow, VA — Jiffy Lube Live — HARDY
June 16, 2022 — Noblesville, IN — Ruoff Music Center — HARDY
June 23, 2022 — Gilford, NH — Bank of New Hampshire Pavilion — HARDY
June 24, 2022 — Gilford, NH — Bank of New Hampshire Pavilion — HARDY
June 25, 2022 — Darien Center, NY — Darien Lake Amphitheater — HARDY
July 2, 2022 — Orange Beach, AL — The Wharf Amphitheater — HARDY
July 3, 2022 — Orange Beach, AL — The Wharf Amphitheater — HARDY
July 7, 2022 — Saratoga Springs, NY — Saratoga Performing Arts Center — HARDY
July 8, 2022 — Syracuse, NY — St. Joseph's Health Amphitheater at Lakeview — HARDY
July 21, 2022 — Burgettstown, PA — The Pavilion at Star Lake — HARDY
July 30, 2022 — Ridgefield, WA — RV Inn Style Resorts Amphitheater — TBD
August 4, 2022 — Atlanta, GA — Cellairis Amphitheatre at Lakewood — HARDY
August 5, 2022 — Atlanta, GA — Cellairis Amphitheatre at Lakewood — HARDY
August 11, 2022 — Mansfield, MA — Xfinity Center — HARDY
August 12, 2022 — Hartford, CT — XFINITY Theatre — HARDY
August 25, 2022 — Wichita, KS — INTRUST Bank Arena — HARDY
August 26, 2022 — Rogers, AR — Walmart AMP — HARDY
August 27, 2022 — St. Louis, MO — Hollywood Casino Amphitheatre — HARDY
September 7, 2022 — Albuquerque, NM — Isleta Amphitheater — HARDY
September 9, 2022 — Nampa, ID — Ford Idaho Center — HARDY
September 10, 2022 — West Valley City, UT — USANA Amphitheatre — HARDY
September 15, 2022 — Chula Vista, CA — North Island Credit Union Amphitheatre — HARDY
September 16, 2022 — Mountain View, CA — Shoreline Amphitheatre — HARDY
September 17, 2022 — Wheatland, CA — Toyota Amphitheatre — HARDY
September 24, 2022 — Los Angeles, CA — Crypto.com Arena — HARDY
September 25, 2022 — Los Angeles, CA — Crypto.com Arena — HARDY
Morgan Wallen online:
Instagram Twitter Facebook TikTok Online